In order to support vehicle automation, IRT SystemX collaborated with its partners Arkamys, Renault Group, Saint-Gobain Sekurit and Valeo to create, integrate and develop an innovative driving cab integrated into a non-driven production vehicle, equipped with several interaction modes and driving simulation. This experimental platform helps evaluate the relevance of several interaction modes and ergonomics of between the autonomous system and the driver in a simulated driving environment, by confronting it with unique scenarios.
The cockpit is made up of different technological blocks: a generic on-board architecture which integrates an automated management system for four levels of automated driving, a set of rules with context recognition, and various assistance features (sounds, vibrations, LED lighting integrated in the windscreen and steering wheel, holographic assistant). These blocks have made it possible to offer multimodal and synchronous human-machine interfaces (HMI), while varying the methods used, in order to adapt the interactions between the vehicle and the drivers according to the driving situation, and thus facilitate its use.
More than 150 people, representing a heterogeneous sample of drivers, experimented with the different scenarios developed by the institute's teams in order to validate the HMI configurations in different use cases (regaining control of the vehicle, degraded driving conditions, etc.).
The results were used in the roadmaps of the institute's partners. Renault Group is currently improving haptic feedback (vibrations or forces transmitted to the operator via the steering wheel) to industrialise it for future vehicles. In partnership with Renault Group, Valeo has filed a patent for using LEDs on the steering wheel. Finally, Saint-Gobain Sekurit plans to reuse the roadmap definition method and tool for product innovation based on a process to predict user experience trends.
Kahina Amokrane, Research Engineer and Architect for Interaction, Uses and Knowledge, IRT SystemX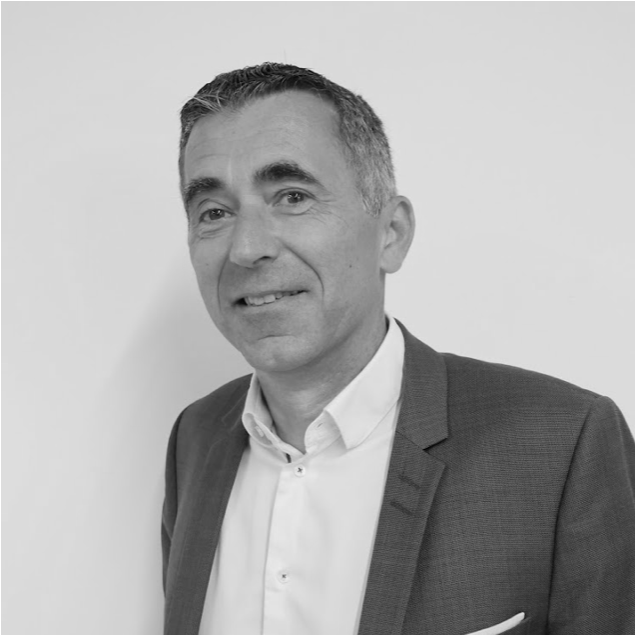 Bruno Albesa
Head of R&D and Innovation, Valeo
What issues did you want to address in the Interactive Multimodal Cockpit (CMI) R&D project?
Valeo joined the CMI project at its onset in 2018. We wanted to evaluate the performance of human-machine interfaces in self-driving cars by collaborating with several renowned academic and industrial partners. More specifically, we wanted to help drivers understand the status of their vehicle (e.g. by activating the manual or autonomous mode) and the transmitted information (upcoming traffic jams on the road, deteriorating weather conditions, etc.).
We have established personas with very different attitudes towards self-driving technology, some who are very comfortable in using them, and others who are less enthusiastic about these innovations. We have studied the implementation of solutions adapted to each of these profiles through different sensory methods.
What will you do with the results from the experiments that were carried out?
As technologies evolve and are adopted, Valeo adapts the technological roadmaps of its products for car manufacturers and new mobility players. The experiments with IRT SystemX will enable us to refine or strengthen these roadmaps in answer to the different needs of autonomous vehicle drivers.
Reusing results in the Confiance.ai programme
The Confiance.ai programme has continued the work carried out within the CMI project, based on the method used to evaluate user trust when interacting with a system. The challenge will now be to extend this method to systems made of blocks of artificial intelligence and to improve awareness of the different aspects to evaluate this trust.
System engineering and dependability